欢迎关注南昌大学2022年重磅推出的成班制来华留学硕士项目
专业:土木水利工程硕士
学制:3年
授课语言:中英双语
汉语要求:HSK5级
专业认证:通过中国工程教育协会(CEEAA)认证
奖学金:
专业学习第一年,提供奖学金覆盖学费(25000人/年),
专业学习的剩余两年,依据学习表现参评奖学金,无违法违纪者,两年中至少一年可获得奖学金覆盖学费(25000人/年);
注:无HSK5级的学生需自费汉语补习一年(学费13000元)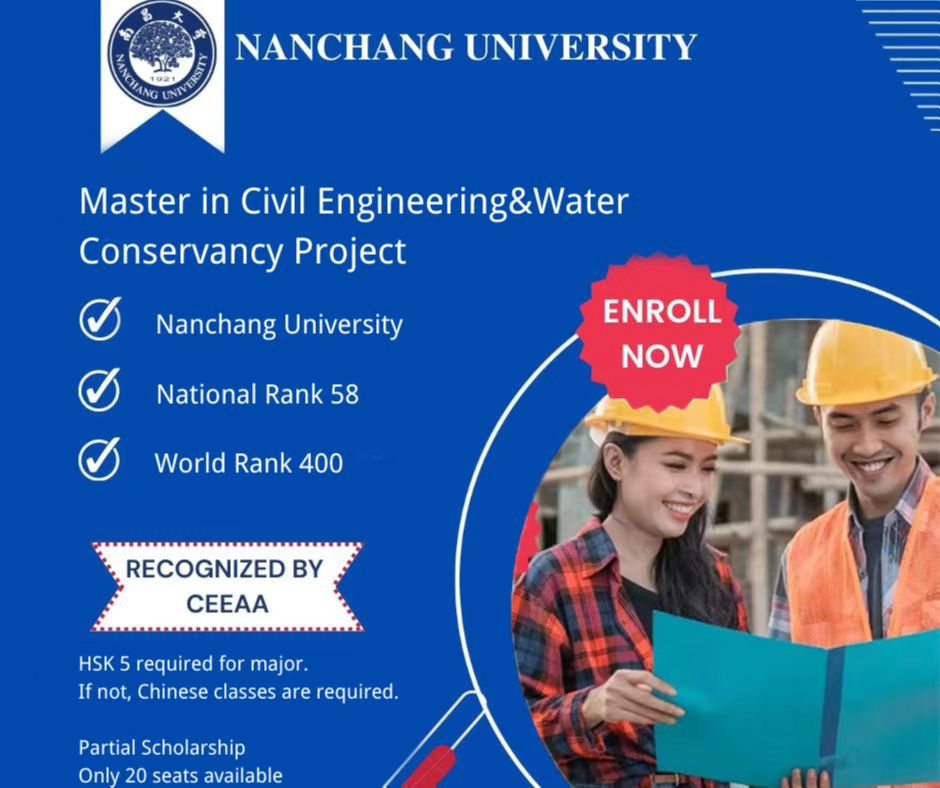 Welcome to join Nanchang University's 2022 class-based master's program launched for international students.
Major: Master of Civil & Water Conservancy Engineering
Period: 3 years
Teaching Language : Chinese and English
Chinese Requirement: HSK5
Professional Accreditation: Certified by China Engineering Education Accreditation Association (CEEAA)
Scholarship: For the first year of major, scholarship covers tuition fee(25,000 yuan a year). For the rest two years, scholarship is awarded in accordance with students' academic performance. If you have no violation of laws and regulations, you can at least get scholarship one of the two years to cover tuition fee(25,000 yuan a year) .
Note:
Students who do not pass HSK5 are required to pay for one-year Preparatory Chinese Course (tuition fee is 13,000 yuan a year).